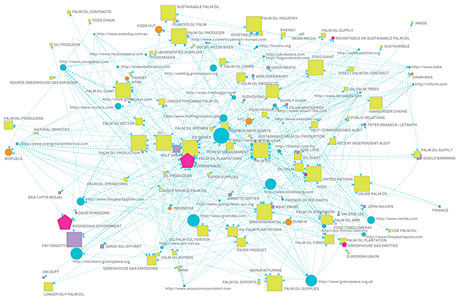 The Sinar Mas influence map by Salter Baxter
Is it a tube map for spiders? A diagram of the galactic core? No, it's an analysis of our ongoing Sinar Mas campaign, specifically the way it has evolved online.
Communication consultants Salter Baxter have tracked how our campaigns on Nestlé, HSBC, Burger King and their connections to Sinar Mas have been discussed on the web, how those conversations have interacted and what impact they've had on the campaign itself.
A larger version of the map and a summary of their findings is featured on the Guardian, and here's a particular interesting note on the amplification which the web provided:
Of course, it was not Greenpeace's actions alone that created this change but the power of social media. The story was followed closely by specialist media, such as Greenbiz and Treehugger, as well as mainstream media such as the Guardian and newswires like Reuters. There was also a large amount of commentary on blogs, which accounted for 70% of the conversations about palm oil on the web during the six month period to September 27, and of course, the NGOs were vocal and influential.
The combined effect of all these voices was a damaged reputation and loss of business, reflected by a dip in its share price, for Sinar Mas.